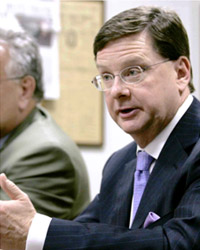 Bill Brandt has been in the business of workout, turnaround and insolvency consulting for more than thirty-five years and is widely recognized as one of the foremost practitioners in the field.  He is President and CEO of DSI.  During Mr. Brandt's long and storied career, he has served in a chief executive, leadership or fiduciary role in over 7,500 matters, many of which involve household names such as Southeast Banking Corporation and Mercury Finance Corporation, as well as the Ebbers Asset Trust, Coudert Brothers, Florida Park Banks and the scandal-plagued Ohio Coin Funds.
Mr. Brandt was the principal author of the amendment to the Bankruptcy Code which permits the election of trustees in Chapter 11 cases.  By Gubernatorial appointment, he is serving his third consecutive term as Chairman of the Illinois Finance Authority (IFA) and is a member of the Illinois Broadband Deployment Council.  The IFA is one of the nation's largest state-sponsored bond issuing agencies, while the Broadband Deployment Council works to ensure that advanced telecommunications services are available to all the citizens of Illinois.  Mr. Brandt has written for a number of publications spanning a broad spectrum of thought, ranging from Maclean's,Canada's Weekly Newsmagazine, to Corporate Board Member and Urban Land.  He is a frequent commentator on topics of corporate restructuring, bankruptcy, municipal insolvency and related public policy issues, and regularly appears on a host of both cable and broadcast outlets.  He serves on the Advisory Board for the Institute of Governmental Studies at the University of California at Berkeley and on the Board of Trustees at Loyola University Chicago.
Background, Achievements:
Current Chairman of the Board of Directors of the Illinois Finance Authority, one of the nation's largest state-sponsored public bond issuers, principally engaged in issuing bonds, making loans and investing capital in entities throughout Illinois.
Published numerous articles for bankruptcy-specific and other industry publications, including

 

Maclean's,

 

Canada's Weekly Newsmagazine,

 

Directors & Boards,

 

Corporate Board Magazine

 

and the

 

American Bankruptcy Institute Law Review.
Frequent lecturer and speaker on insolvency and restructuring issues.
Appears regularly on national media outlets and in the national print media providing expert commentary on insolvency issues.
Profiled in numerous periodicals, including the

 

Wall Street Journal, the

 

New York Times, and the

 

International Herald Tribune.
Advised Congress on matters of insolvency and bankruptcy policy and was principal author of certain trustee election provisions of the Bankruptcy Code.
Several terms as member of American Bankruptcy Institute's Board of Directors.
Served approximately 20 years as a member of the private Panel of Trustees for the United States Bankruptcy Court for the Northern District of Illinois and briefly served as a member of the same panel for the Bankruptcy Court in the Southern District of Florida in the late 1980s.